This page contains general information on our online games at Palace of Cards. Browse through all the information or use the following links to jump to a specific topic:
Our Games at Palace of Cards
We do our utmost to recreate traditional card games so that you can enjoy playing your favorite classics anytime. We currently offer nine online card games that can be divided into three categories:
1. Trick-taking games
3. Patience games
---
Prerequisites
To play one of our games, all you need is a stable internet connection and a device. You can then start playing for free anytime!
As far as devices are concerned, we are flexible. Smartphone, tablet, laptop, desktop PC—any one will do. This is because all games can be played across platforms.
Why a stable connection?
With us, you are always playing live and online, against real players. Therefore, if your internet connection is interrupted, you will automatically leave the game. To prevent cheating, players who leave a table early will not be credited with any winnings for that table.
If your router does act up, we'll give you two minutes to return to your game table as long as the last card hasn't been played. At no-bet tables, another player will automatically move up to take your place.
You can play our games as follows:
as a browser game
as Windows software
via Facebook
via Amazon
as an iOS app
as an Android app
By the way, your profile can only be in one online game at any time. This means that you cannot switch between two games in two different browser tabs, for example. As soon as you enter the second game, you will automatically leave the first one.
---
Possible Numbers of Players
Depending on the game, the usual number of players varies. That's why we've put together this overview listing the possible numbers of players for all Palace games:
| | |
| --- | --- |
| Game | Possible number of players in Palace of Cards |
| Skat | 3 |
| Doppelkopf | 4 |
| Sheepshead | 4 |
| Pinochle | 3, 4 |
| Bid Whist | 4 |
| Solitaire | 1, 2, 3, 4 |
| Spider | 1, 2, 3, 4 |
| Canasta | 2, 4 |
| Gin Rummy | 2 |
| Rummy | 2, 3, 4 |
| Mau Mau | 2, 3, 4 |
---
Game rules
For each game, we have set up a Help feature that you can view while playing to get a quick overview. To access it, simply click on the question mark at the top of the screen in the game.
We have also written detailed manuals, and in some cases also lessons or compact rules. You will find these in the School on the game pages. Simply click on the game you would like to learn more about to go to the manual:
---
Additional Custom Rules
In Palace of Cards, Premium players can create tables with custom rules where everyone can play.
These custom rules change the game and make it even more exciting if you have already mastered the basic mode.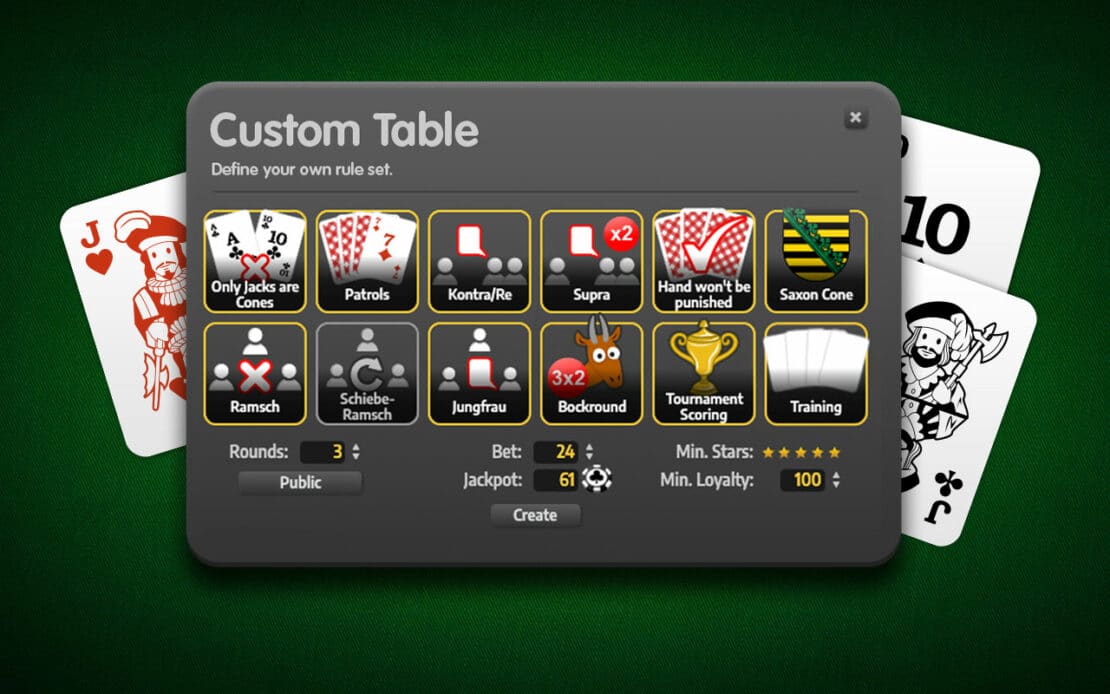 Of course, the custom rules differ from game to game. To see which custom rules are available, you can refer to the game help or visit the respective website with the game rules.
The only custom rule that exists in all games is called Training. Tables with this rule are not reflected in the League.
You can see whether custom rules apply at a table by looking at the symbols in the table list.
At any time during a game, you can also click on the i or Table info at the top of the screen for a list of custom rules.
---
Visit Us on Facebook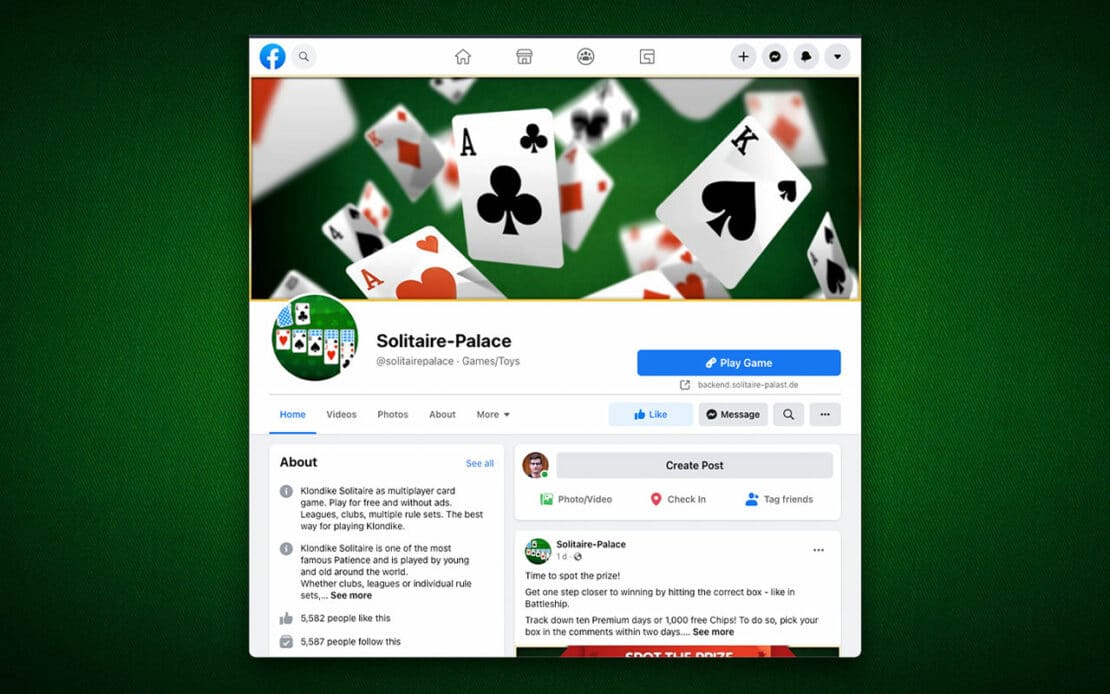 Most of our games are also available via Facebook. If you have a Facebook account, you can also follow our Facebook pages, even you're not playing via Facebook. Use Facebook to stay up to date, get in touch with other players, and occasionally take part in small competitions.
Simply click on the game to visit its Facebook page.