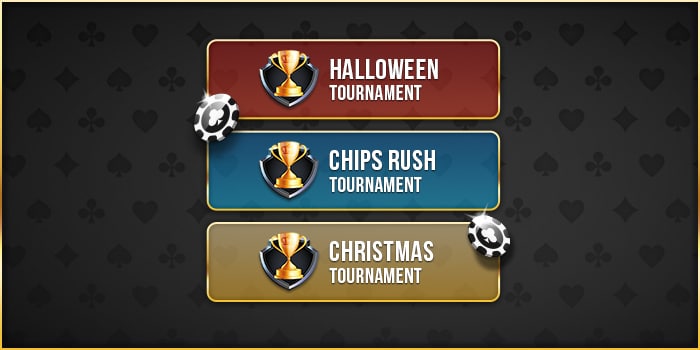 Klickt hier für die deutsche Version.
You have probably read about our official Palace of Cards Tournaments in this blog before. After all, we held five official tournaments since the premiere in the summer of 2019!
If you have not, it is about time: You get to play for an exceptionally large Chips jackpot contributing a fairly low bet. Sometimes, we come up with something extra. There are plenty of participants each time, so join in!
Open your agenda and save the dates:
Saturday, October 31, 8:30 pm CET – Halloween Tournament
Saturday, November 21, 8:30 pm CET – Chips Rush Tournament
Saturday, December 19, 8:30 pm CET – Christmas Tournament
Registration
After making time for the tournaments, you need to sign up, of course! You can do so in your desired game as of now. Enter your game, and continue step by step:
On a tablet or smartphone

(except Pinochle)


On a desktop PC or laptop

(Any device for Pinochle)

1. Click Options.

2. Click Competition.

3. Click Tournaments.

4. Scroll until you see the desired tournament and click Enroll.

1. Click Competition or the trophy symbol at the bottom of the lobby.

2. Click Tournaments.

3. Scroll until you see the desired tournament and click Enroll.
Prizes
As a rule, our official tournaments come with a jackpot with up to 10,000 Chips, numerous Premium days, and exclusive Palace of Cards certificates, lovingly designed exclusively for this occasion, for all winners.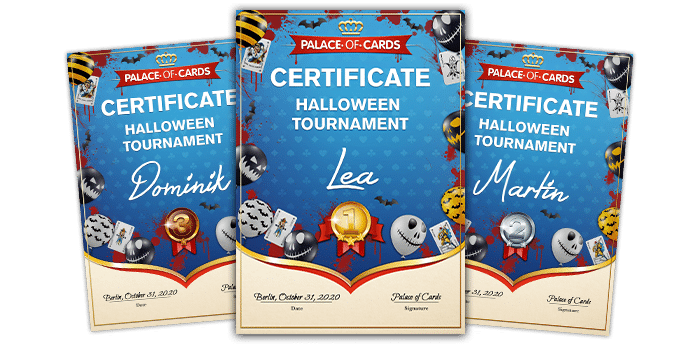 The jackpot and the Premium days are split among the winners of each play group. Usually, the first place receives 70% of the Chips in the pot and 90 Premium days, the second place 20% and 60 Premium days, and the third place 10% and 30 Premium days.
All winners mean several play groups per tournament are possible: When the maximum of registered players is exceeded, another play group will open automatically. As a result of this and even scores within one group, several players can be in the same place.
Something Extra
As stated above, some official tournaments are created with something extra:
The Chips Rush Tournament does not carry this name in vain: It is about nothing but Chips – and plenty of them! You can see how many Chips the pot holds in the game's tournament list.
And the Christmas Tournament is coming in ASS Altenburger style.
See You Soon!
Best sign up right away, so you cannot forget it. Once that is done, you can happily anticipate the tournament with us. Get ready for the clash of the best – practice makes perfect! So, don't be intimidated and show your skills.
We are looking forward to welcoming the participants!
Your Palace Team
P.S. If you are jinxed, and none of the tournaments suit your schedule, there will be several chances to take part in an official Palace of Cards Tournament next year. We will let you know right here. Stay tuned 😉