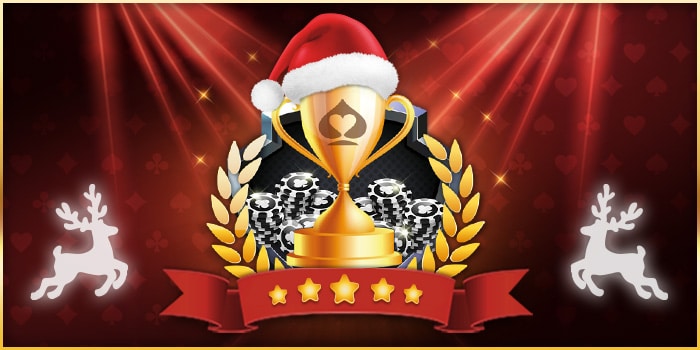 Klickt hier für die deutsche Version.
Dear friends of the Palace,
Our finale of 2020 is here: On Saturday, December 19, 2020,  the official Palace of Cards Christmas Tournament will start at 8:30 pm CET under the banner of our official partner, ACE Altenburger!
For a small bet of one Chip, you get to compete for the jackpot of 20,000 Chips! Additionally, this tournament is another XXL edition with five instead of three series. So, make sure you have enough time for a lovely game night!
Our Partner
We have been giving a digital home to card games since 2009. And the Spielkartenfabrik Altenburg GmbH has been providing families, friends, and regulars at the bar with playing cards and more in Germany since 1832! By the way, card making has a history of more than 500 years in Altenburg, Germany.
Now, we teamed up: ACE Altenburger card designs have been available at the Palace for a while now. And since October 2019, more and more newly produced card games feature a voucher for the Skat Palace, Rummy Palace, and Sheepshead Palace!
We celebrate our partnership with the Christmas Tournament! Join and compete for one of our exclusive prizes.
Participation
All our Spider players are now received in the ranks of tournament players, too. Welcome! Thereby, this official tournament is the first one taking place across the whole Palace of Cards!
The following player numbers are in effect at the ACE Altenburger Christmas Tournament:
| | |
| --- | --- |
| Skat | 3 players per table |
| Rummy | 4 players per table |
| Doppelkopf | 4 players per table |
| Sheepshead | 4 players per table |
| Canasta | 4 players per table |
| Mau-Mau | 4 players per table |
| Solitaire | 4 players per table |
| Pinochle | 4 players per table |
| Spider | 4 players per table |
Depending on the game, 200 to 450 players can play per group in every game. When the maximum of players is exceeded, the next group will open automatically. This way, everyone can partake for a bet of merely one Chip! Of course, you will face tenacious opponents. But if you come out on top in your game, appreciation and exclusive prizes await you.
Registration
Sign up for the tournament via the game you want to compete in as of now. To do so, enter your desired game, and continue step by step:
On a tablet or smartphone

(except Pinochle)


On a desktop PC or laptop

(Any device for Pinochle)

1. Click Options.

2. Click Competition.

3. Click Tournaments.

4. Scroll until you see the tournament titled Christmas Tournament and click Enroll.

1. Click Competition or the trophy symbol at the bottom of the lobby.

2. Click Tournaments.

3. Scroll until you see the tournament titled Christmas Tournament and click Enroll.

Attention: In older Pinochle versions, this tournament might be displayed as Standard Tournament.
To participate in the tournament, you just need to be online in your game on December 19, 2020, shortly before 8:30 pm CET and enter the tournament.
Prizes
There will be exclusive Palace of Cards certificates, numerous Premium days, and a jackpot with up to 20,000 Chips. We lovingly design the certificates exclusively for this occasion! All winners of the places one to three receive one as a PDF: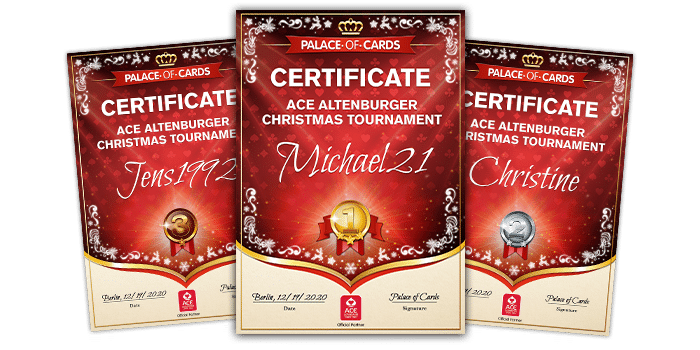 All winners means several play groups per tournament are possible: If 540 players registered for Sheepshead, we would split the tournament into three groups with a maximum of 200 players each.
As a result, there would be three first places, three second places, and three third places. Each play group has its separate jackpot. We will note in your certificate in which play group you were successful.
The jackpot and will be split among the winners per group. Usually, the first place receives 70% of the pot's Chips, the second place 20%, and the third place 10%.
If two players in the same play group reach the same score, double placements can occur. In this case, the distribution of prizes changes slightly. This is always communicated clearly in our update post on the winners.
Let's go!
Best sign up right away, so you cannot forget it. Once that is done, you can happily anticipate the tournament with us. Get ready for the clash of the best – practice makes perfect! So, don't be intimidated and show your skills.
Greetings, and already wishing you a good hand,
Your Palace Team