Klickt hier für die deutsche Version.
Dear friends of the Palace,
The next official Palace of Cards Tournaments are scheduled! We have been offering you those special and especially popular tournament variations since 2019. If this is still news to you, look here: At the official tournaments, you get to compete for your share of an exceptionally large Chips jackpot, contributing a low bet! In addition, we come up with something extra from time to time.

Open your schedule and save the dates:
Monday, May 24, 8:30 pm CET – Pentecost Tournament
Monday, June 21, 8:30 pm CET – Longest Day Tournament
Saturday, July 24, 8:30 pm CET – Olympic Tournament

Participation is always high in these tournaments – so, join in and compete with the best!
---
Registration
After making time for the tournaments, you need to sign up, of course! You can do so in your desired game as of now. Enter your game, and continue step by step:
On a tablet or smartphone
(except Pinochle)
1. Click Options.
2. Click Competition.
3. Click Tournaments.
4. Scroll until you see the desired tournament and click Enroll.
On a desktop PC or laptop
(any device for Pinochle)
1. Click Competitionor the trophy symbol at the bottom of the lobby.
2. Click Tournaments.
3. Scroll until you see the desired tournament and click Enroll.
All you need to do now, is be online in your game on the day of the tournament shortly before 8:30 pm CET. This way, you have enough time to enter the tournament on time.
---
Prizes
As a rule, our official tournaments come with a jackpot with up to 10,000 Chips, numerous Premium days, and exclusive Palace of Cards certificates, lovingly designed exclusively for this occasion, for all winners. Here are all our designs from 2020, for example: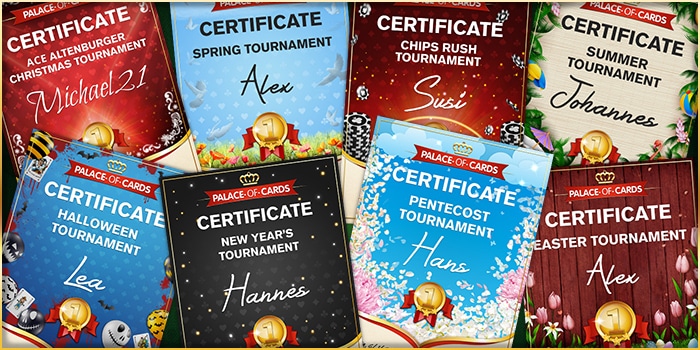 The jackpot and the Premium days are split among the winners of each play group. Usually, the first place receives 70% of the Chips in the pot and 90 Premium days, the second place 20% and 60 Premium days, and the third place 10% and 30 Premium days.
Several play groups per tournament can come up: When the number of registered players exceeds the maximum, another play group will open automatically. As a result of that and even scores within one group, several players can be in the same place. In that case, we will adjust the payout of the jackpot. We give precise information in each blog post concerning the tournament winners.
---
Something Extra
As stated above, some official tournaments come with something extra: The Longest Day Tournament has an extra-large jackpot with 20,000 Chips! Additionally, it will be the longest official tournament we have had so far! Let us introduce to you: The Ultra edition with a whopping six series! That is abundant gaming fun for everyone!
---
See You Soon!
Best sign up right away, so you cannot forget it. Once that is done, you can happily anticipate the tournament with us. Take some time to practice and show your skills!
We are looking forward to welcoming the participants!
Your Palace Team
---
PS: If none of the tournaments suit your schedule, there will be more chances to participate in an official Palace of Cards Tournament this year. We will let you know right here! 🙂